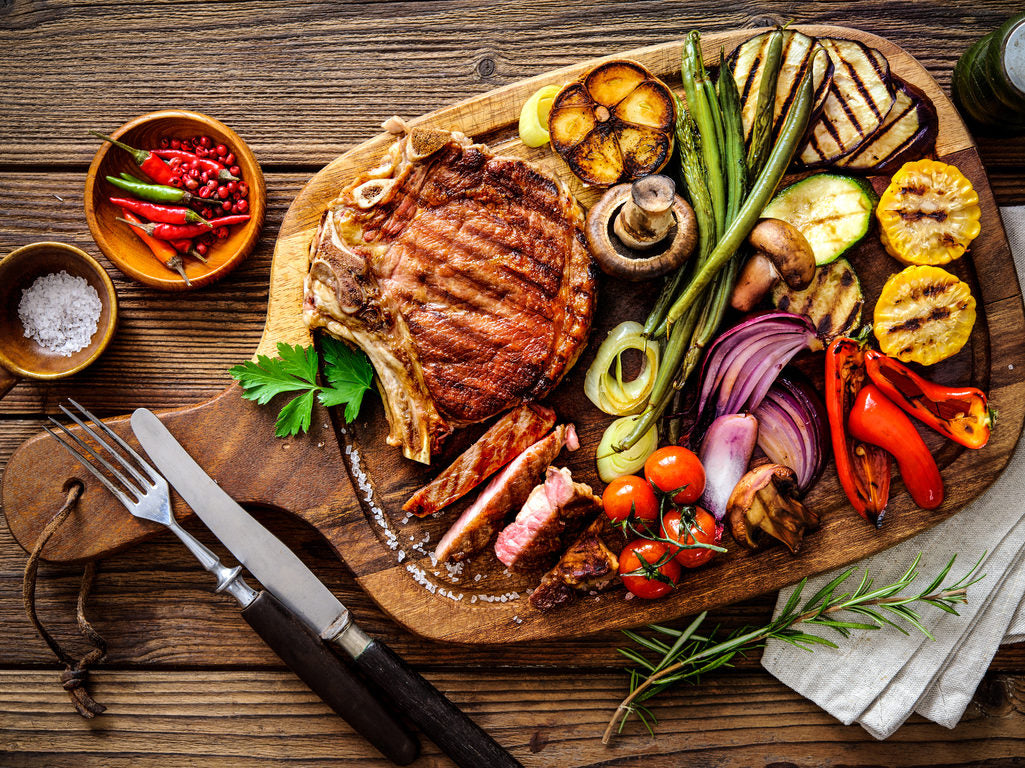 High Steaks: 5 Classic Steak Recipes for a Powerhouse Meal
Everybody loves a good steak, unless you're some sort of reptilian who can't appreciate life's finer things and a good meal among trustworthy company. 

And the best part about steak is that it is the perfect meal after a good workout, in terms of muscle-building protein delivered to feed the beast. Here are easy 5 ways for anybody to prepare America's favorite meal. 


#1: Garlic Peppered Flank Steak:



Flank steak 
is a super lean, delicious option and is probably one of the healthiest cuts of beef available; providing a high-volume, amino acid-laden boost.
Ingredients:
 3.75 lbs of flank steak.

 A half tablespoon of paprika.

One tablespoon of minced garlic.

Two tablespoons of ground black pepper.

1/4 cup(60ml) of lime juice.

Two dabs of olive oil.
Set the temperature of your grill to 275 degrees Fahrenheit, then take your steak and coat it with the olive oil.
Then, its time for some seasoning. Cover
 your steak on one side with
paprika, garlic,
and
black pepper,
then lay the seasoned side of the steak onto the preheated grill.
Cook that side for about 20 minutes and then flip over the steak to the other side and cook it or 10 minutes. 
Depending on how well-done you would like, you can give it a little more time.
When finished, remove it from the grill and garnish with lime juice.
#2: Mojo Flat Iron Steak:



The flat iron is a good substitute for a ribeye cut, so if you are on a budget then go for this recipe.

Ingredients:
One pound of iron steak.

1/4 cup of fresh orange juice.

One cup of chopped red bell pepper.

One teaspoon of chili powder.

Two minced garlic cloves.

Two teaspoons of brown sugar.

Two teaspoons of grated lime rind.

Two tablespoons of extra-virgin olive oil.

46 grams of chopped red onions.

Two tablespoons of olive oil.
Start by setting up the grill at  400 degrees Fahrenheit.

While the grill is firing up, mix your lime rind, orange juice, and a tablespoon of olive oil. Stir it well and then coat both sides of the steak. 
Once you have seasoned your steak place it on the grill and cook for 
10 minutes(5 minutes
for
both sides).


When the steak is done, place it on to the plate and set aside for 5 minutes to cool.
Finally, c
ut along the grain and garnish it with the remaining olive oil, like a true sophisticate. An undeniable flavor explosion will follow.


#3: The Dijon Don: Grilled Sirloin Steak and Mushroom Salad



Dijon mustard is one of the more underrated condiments of all time, and absolutely worthy of a Hall of Fame discussion. And if you're looking for something to eat with high protein counts and low carbs? This particular, highly refined sirloin dish is right up your alley.


Ingredients:
Six tablespoons olive oil, divided.
Two tablespoons Dijon mustard, divided.
1/2 teaspoon salt.
1/4 teaspoon pepper.
One beef top sirloin steak (1-1/2 pounds)
One pound sliced fresh mushrooms
1/4 cup red wine vinegar
One medium bunch romaine, torn
In a small bowl, whisk one tablespoon of oil, one tablespoon of mustard, and the salt /pepper mixture; and set aside. Grill steak, covered, over medium heat for 4 minutes.

Turn and spread with the mustard mixture. Grill 4 minutes longer or until meat reaches desired finish (for medium-rare, a thermometer should read 135° for medium, and 140-145° for medium-well). Meanwhile, in a large skillet, cook mushrooms in one tablespoon of oil, until tender. Stir in the vinegar, and the remaining oil and mustard.

Thinly slice steak across the grain and add to the mushroom mixture. Serve over romaine. Proceed to gain 20 pounds of muscle after the fact.


#4: Steak and Eggs:


The marketing team at "Wheaties" tried to claim it was the breakfast of champions, when they obviously just didn't consider the full line of options available, like steak and eggs. Combine two of nature's best sources of protein to swell up the 24-inch pythons.
Ingredients:
114 grams of sirloin steak.

Two whole large eggs.

Half a teaspoon of finely chopped garlic.

One sweet potato.

One tablespoon of smoked paprika.

Two tablespoons of olive oil.
Preheat to 350 degrees Fahrenheit.
Use a mallet to tenderize your steak, then season it by adding salt and garlic flavor.
Place it on a pan and cook it for 5-7 minutes each side. Once cooked, take out of the pan and wrap inside foil to keep to trap the heat.
Now, pour a tablespoon of oil in the pan and break two eggs in it. Take your sweet potato, drizzle some water, then place inside a microwave for about 3 minutes.

Place your egg, sweet potato, and steak on the plate and garnish with some olive oil. Enjoy at any time of day, especially breakfast.
#5: Slow-cooked Pepper Steak:
The classic pepper steak is a more methodical dish, taking all day to prepare in a slow cooker. Yet, it remains a favorite for bodybuilders nonetheless. 
Ingredients:
Two pounds of beef sirloin, cut into 2 inch strips.
Garlic powder. 
Three tablespoons of vegetable oil.
One cube of beef bouillon.
¼ cup of hot water.
One tablespoon of cornstarch.
½ cup of chopped onion.
Two large green bell peppers, roughly chopped.
One (14.5 ounce) can of stewed tomatoes, with liquid.
Three tablespoons of soy sauce.

One

teaspoon of white sugar.

One

teaspoon of salt.
Sprinkle strips of sirloin with garlic powder to taste. In a large skillet over medium heat, fire up the vegetable oil and brown the seasoned beef strips. Transfer to a slow cooker.
Mix the bouillon cube with hot water until dissolved, then mix in cornstarch until dissolved. Pour into the slow cooker with meat.
Stir in onion, green peppers, stewed tomatoes, soy sauce, sugar, and salt. Cover, and cook on
High
for
3 to 4 hours
, or on
Low
for
6 to 8 hours
.
Sep 21, 2020

Category:

News
Comments: 0