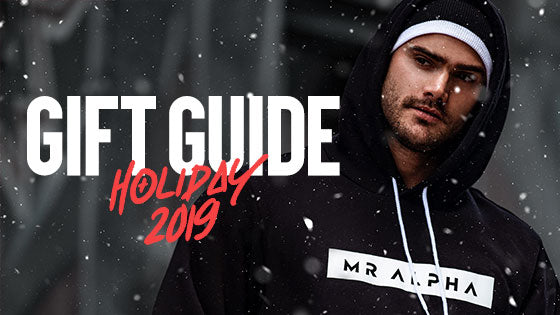 Holiday Gift Guide 2019
Holiday Hunting Made Easy: You already know MR ALPHA is your one-stop-shop for men's lifestyle necessities, but did you know this holiday season we're offering limited edition bundles, rewards, and free dope gifts for the ALPHA in your life? Read until the end to get details about your exclusive free $15 gift! 
MR ALPHA Hair Care Essentials Set brings your hairline rejuvenation, complete stimulation and total restoration. A Sulfate-Free, Paraben-Free, and Cruelty-Free formula infused with the purest ingredients that nature has to offer ensures a hairline with more density & fullness. Step One, Volumizing Shampoo for Men, incorporates Caffeine which has been proven in scientific studies to inhibit the production of the DHT Hormone which contributes to hair loss.
Your follicles will thank you for using our Energizing Conditioner which is Step Two of our iconic product trio. This Argan Oil infused product packs a punch full of moisturizing & restorative power to support healthy hair growth. Finally, MR ALPHA Hair & Beard Serum further promotes intense hydration & hair regeneration with our exclusive Biotin infused formula. 
Perfect for layering, MR ALPHA's Black Bomber Jacket brings together the perfect subtle touches of bad ass style with a functional, water-resistant design. Keep your ALPHA dry & comfy into the stormy Spring months with this black-on-black premium bomber featuring ribbed cuffs & double welt pockets. This piece is ideal for gift-giving because the monochromatic color-scheme compliments nearly any ensemble. The versatility of the fabric weight makes it the perfect choice for quick runs to the gym or styled as the crowned jewel of layering over a thick sweatshirt for added warmth!
The MR ALPHA Total Alpha Skin Care Set brings the ease of skincare for an on-the-go lifestyle with real, proven results backed by scientifically supported ingredients. All formulas in this trio are manufactured in the United States & contain Sulfate-Free, Paraben-Free & Cruelty-Free product formulas. Our Anti-Aging Serum packs the powerful "heavy-hitters" contained within successful skincare routines
—
Retinol, Vitamin E, Ceramides, and Black Currant Seed come together to decrease fine lines & wrinkles while working to gently resurface the dermis over time with extended use. 
Give the gift of improved skin clarity & elasticity with MR ALPHA's Collagen Retinol Cream. Antioxidants such as Vitamin C combine with powerhouses like Retinol & Collagen to promote firmer looking skin through revitalization & hydration. Lastly, MR ALPHA Intensive Eye Repair Serum works to erase signs of aging like crows feet with Ceramides & the hydration dynamo Hyaluronic Acid. 
This premium quality cap with 100% Polyster Athletic Mesh with sweat wicking technology makes this the perfect stocking stuffer for any ALPHA who goes the extra mile during their workout. The neutral, monochromatic color scheme offers versatility to perfectly top off any 'fit with little effort. A pre-curved bill adds to the futuristic looking aesthetic of this piece while also lending supreme protection from harmful UV Ray damage. 
The MR ALPHA Power Hour Nutritive Set combines all of the dietary essentials into one stocking-stuffer-ready package for peak muscle growth, increased stamina / energy, & revitalization after intense workouts. IGNITE the necessary endurance for a rigorous workout with our Creatine-Free Pre-Workout Dietary Supplement. Watch your physique TRANSFORM with our Transform Fat Burner Dietary Supplement. Green Tea Extract, Tyrosine & Caffeine come together to provide the ultimate metabolism & fat burning booster. 
Following a high-powered exercise routine, utilize RECOVER Post-Workout Dietary Supplement to improve recovery-time, reduce fatigue & increase overall muscle gain. This intensity-packed trio is the ultimate holiday hack for the ALPHA who is interested in bringing their fitness & physique to previously never before explored heights. 
Get Fly in Fleece: Designed with 100% Premium Cotton Fleece for ultimate comfort, this stylish jacket features a relaxed fit with subtle branding detail spanning the eye-catching contrast piping. A preferred choice for running errands or chilly exercise routines, this garment makes the perfect gift for the ALPHA who lives in the fast lane & wants to look stylish effortlessly. Side well front pockets ensure the protection of valued electronic devices while the raglan sleeves & cadet collar offer increased protection against frosty temperatures. 

Take Training Next Level: This monochromatic fitness garment makes the perfect present for the ALPHA in your life. Get him stylin' effortlessly in this ultra-tight fitted top which wicks moisture and provides ultimate comfort with chafing resistant flatlock stitching. The revolutionary 4-way stretch fabric provides greater mobility, increased speed, & maintains physique. Plus, keeping cool, dry, and comfortable in any climate makes this the ultimate holiday gift grab. 
Place these high quality MR ALPHA Light Grey Joggers under your holiday tree this year without hesitation: They're the perfect fit for a cozy couch potato afternoon or an intense fitness routine. The premium ribbed ankle cuffs ensure a stylish silhouette with increased functionality for rapid movement. These jolly joggers feature standard sizing, are side seemed, and contain an elastic waistband perfect for use on Christmas morning. 
Your Free $15 Gift:

Premium MR ALPHA Tee 
This quality tee is yours with any order exceeding $100! A perfect stocking stuffer or addition to a comfy jacket in your order for layering, this stylish top offers supreme comfort combined with an exclusive, eye-catching, ALPHA design. This offer will only last while supplies last, so hurry, they're going fast!